Overview
We will soon be accepting registrations for our Kindergarten class of 2023. Applications are applicable for children who`s 3rd birthday falls between April 2nd, 2019 and April 1st 2020. Please note that there are 20 seats available for this class and priority goes to exiting Grow students. Registration will start from September 1st. We are looking forward to having fun and growing with you! ♪
日本語こちら
Policies
Our school year goes from April 1st until March 31st
Our kindergarten classes are 20 students, team-taught by 2 teachers (1 Native teacher & 1 bilingual Japanese teacher).
Explanations about Grow and the Kindergarten class are on a RSVP basis. Please call us to reserve your information session & school tour.
We will accept the application of children which are not students at Grow from 11:00 am on Thursday, September 1st.
Applications must be done by either the parents or family members of the applicant student. We will not accept applications via email, fax or facsimile. Children do not have to be present during the application.
Public registration will begin after the current Grow Toddler Preschool students registration grace period ends on 8/31/2018. Please note that we will close public registration and begin taking waiting list applications (in the order of applications recieved on 9/1) if the maximum number of students registered (20) is reached by current Grow students.
If there are spaces available for the public to join the 2022 K1 class, we will interview prospective families after receiving their application. An interview schedule will be setup at the time of application. The interview must be attended by either parent as well as the child.
Results of the interview will be sent to applicants by mail. Approved students must bank transfer the registration fee of ¥51,600 by the bank transfer deadline specified in the confirmation letter or forfeit their space.
If you have any questions at all please contact us.
Our Kindy Class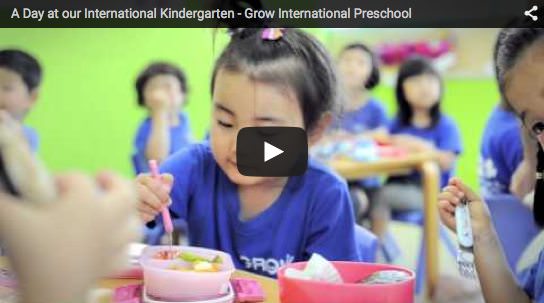 To see how our school can best fit your childs needs and to book your kindergarten information session, please RSVP by contacting us by mail or phone ( 052-734-6442) .
Please note that we are still accepting new Toddler students & K1 / K2 / K3 registrations until the classes are full ♪ For current course vacancies, please inquire here.
Our School:
Grow International Preschool Marine Bld, Makinohara 1-1005-1, Meito Ward, Nagoya 465-0087